Welcome to the Puppetry Museum!
Look, listen and experiment
From the workshop to the stage, adults and children are invited to enjoy a totally new experience. The exhibition focuses both on puppets and how they are animated, taking visitors on a fascinating journey around the secrets of puppetry.
Practical information
Open from Wednesday to Sunday, from 10.30 am to 6.30 pm.
€8, concessions €6. Free for under 18s.
This fun and immersive museum looks at three central questions. Where do puppets come from? What is their purpose? How are they animated?
The Puppetry Museum depicts the origins of this living art and unveils its backstage history. It is the only museum in France with an international collection, bringing together over 300 new puppets, costumes and sets from Europe, Asia, Africa and America. It explains the cultural and social role of puppets since ancient times and throughout the world.
Throughout the visit, there are play and experimentation areas for young and old alike. The various manufacturing stages are explained and video tutorials help you to set the objects in motion. A "castelet" - or puppet stage - is provided for you to put your puppeteering skills into play!
There is a particular focus on the character of Guignol, created in Lyon in 1808.
An introduction to puppets

Rooms 1 to 3
One by one, the first three rooms reveal what defines puppetry, as well as inviting visitors to create their own definition.
Forty puppets of all origins, all periods and all techniques are hung side by side. Visitors can highlight the puppet they choose, using the interactive system located in the centre of the room.
This is where the experimentation starts! Thanks to a mechanism designed with Compagnie L'Ateuchus (Gabriel Hermand-Priquet and Virginie Schell), visitors face a mirror with a puppet on a base:
Wooden ball hanging from a thread / Built by Sophie Chaumard, a Gadagne technical team member
Architectural puppet / Built by Quentin Lugnier, scenographer, props designer and builder
Anthropomorphic puppet / Built by Virginie Schell from Compagnie L'Ateuchus
Flip the switch and a puppeteer appears in the mirror. Michel Laubu, François Lazaro and Camille Trouvé take up the same puppet as you and show you how to bring it to life.
Listen to them, watch them and try your hand at puppetry!
Excerpts from puppet shows and audience reactions are projected on three large suspended canvases. Alluding to the backdrops of "castelets", or the puppet stages, this set of canvases plays on effects of transparency and surprising combinations.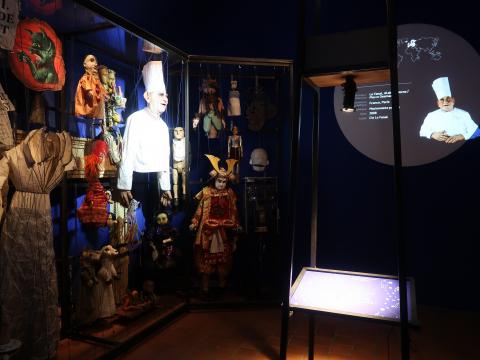 Where do puppets come from?

Rooms 4 and 5
Visitors are then shown the genealogy of puppets; early figurines, geographical origins, key traditions and emergence within the most ancient beliefs.
Humans have been making and animating human and animal representations from pre-historic times. Closer to our era, toys come to life in the hands of children.
The art of puppetry is universal. It has its roots in great founding narratives; myths of the creation of the world and stories of gods, goddesses, heroes and heroines. Puppet theatre can be a rite or a spectacle, depending on the culture.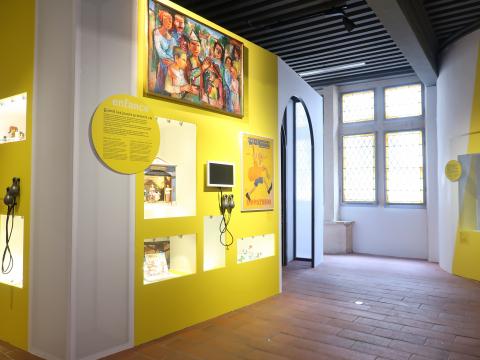 What's the purpose of puppets?

Rooms 5 to 7
Puppetry is rarely limited to pure entertainment and can interpret the world in a variety of ways.
Three sequences give you a glimpse of this amazing diversity.
To entertain, mock and protest
To educate, treat and heal
To inspire, surprise and disturb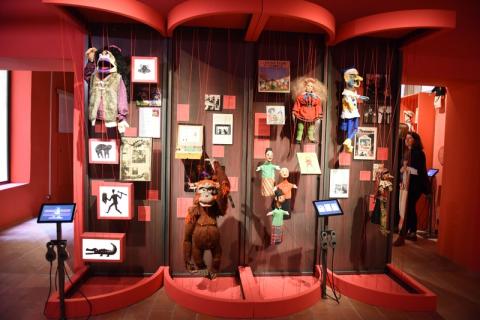 The "Carte Blanche" Room

Room 8
Located in the heart of the Puppetry Museum, the "carte blanche" room is dedicated to presenting the artistic world of a past or current puppeteer. 
Renaud Herbin, a modern puppeteer and director of the Youth Theatre of the Strasbourg Grand-Est National Centre for Dramatic Art, is the resident from October 2020 until autumn 2022. 
Along with his co-creator, set designer Mathias Baudry, Renaud conveys their singular approach to theatre, mixing bodies, puppets and raw materials. In their work, material - wax, peat and clay - is set in motion and becomes a playmate. Sometimes, the space itself comes alive like a puppet on another scale (At the still point of the turning world, 2018). Renaud Herbin readily employs traditional puppeteering techniques, such as strings, to use puppets in theatrical productions, which call into question the presence of bodies (Milieu & Alentour 2019 and Open the owl, 2017). 
Until the autumn of 2022, they have free rein of the Puppetry Museum permanent exhibition room. They will be displaying materials, models and puppets from their shows, together with videos showing their many collaborations with internationally renowned puppeteers. Analysis by theatre and dance researcher Oriane Maubert helps visitors better understand the artist's creative process.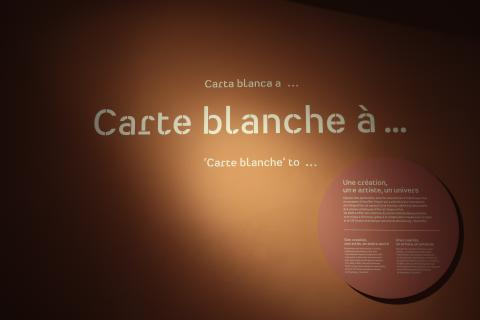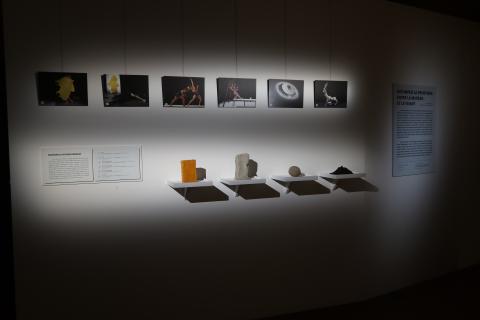 How are puppets brought to life?

Rooms 9 and 10
Two rooms to experiment and play on the other side of the mirror, with the museum's partner puppeteering companies.
The workbench
In the puppeteer's workshop, visitors can touch the materials (wood, foam and leather), assemble and disassemble a hand puppet, look at photos of set designs and admire the meticulous work carried out on the costumes.
The puppet theatre – it's your turn!
This part features a backstage area, benches, stage and three types of puppets specially made by three companies.
Children and adults alike can enter our large puppet theatre, or "castelet", which serves as an experimental toy to learn how to handle puppets and bring them to life!
To help, three puppeteers have created video tutorial!
Hand-held puppets
Compagnie Arketal
Puppets made by Greta Bruggeman
Tutorial by Sylvie Osman
Rod and string puppets
Compagnie Emilie Valantin
Puppets made by Emilie Valantin (design), Francois Morinière (construction) et Léa Marchand-Fallot (faces)
Tutorial by Jean Sclavis
Hand puppets
Compagnie M.A. - Théâtre le Guignol de Lyon
Puppets made by Léa Caron (sculptor) and Pauline Marc (costume designer)
Tutorial by Emma Utges
Visitors can practice and improvise short shows. 
A show discussion :
At the end of the visit, take a rest and watch two new videos from ethnologist, Péroline Barbet. Artists chat together, revealing details about the "making of" their shows.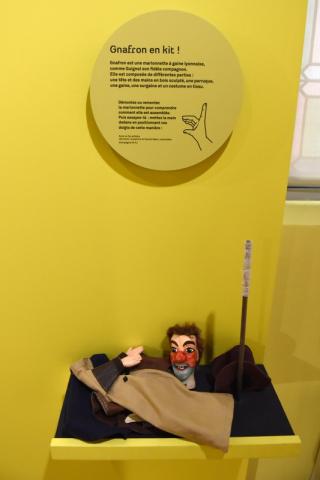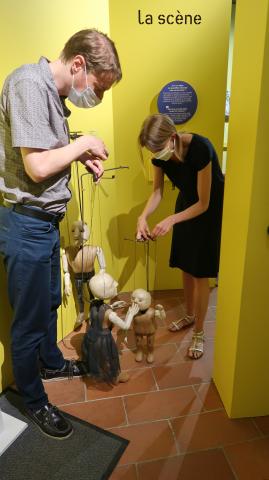 And what about Guignol?
If it wasn't for Guignol, there wouldn't be a puppetry museum in Lyon!
The puppet, which was created in Lyon around 1808 and whose fame extends far beyond the city limits, accompanies visitors throughout the exhibition.
Always shown on a wall, Guignol guides visitors and has ongoing discussions with other puppets.
Just as world puppets throughout history have adopted multiple roles, Guignol is not to be outdone. He can be entertaining, joyfully parodic, an educational object or a propaganda and marketing tool.
Finally, if you don't mind stepping backstage, Guignol reveals the complexity of his manufacture, handling and interpretation, with the sheath, linden wood, castelet, improvisation and canvas - all terms and artistic props you will learn about during your visit!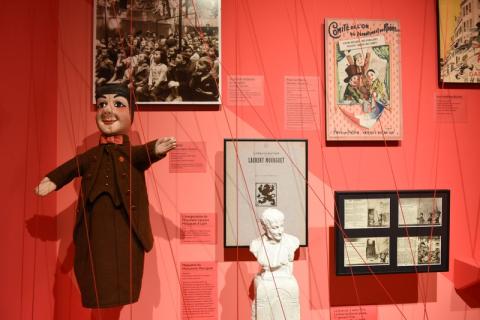 Salle "Le Réveil" du parcours du MAM - Gadagne - © Gadagne, 2017

Visite au MAM - Gadagne - © Muriel Chaulet, 2018

Visite adulte au MAM - Gadagne - © Muriel Chaulet, 2018

Visite au MAM - Gadagne - © Muriel Chaulet, 2018

Salle "A quoi sert la marionnette" du parcours du MAM - Gadagne - © Terence O'Neill 2018

Salle "D'où vient la marionnette" du parcours du MAM - Gadagne - © Terence O'Neill 2018

Salle "A quoi sert la marionnette" du parcours du MAM - Gadagne - © Terence O'Neill 2018

Salle "Comment se joue la marionnette ?" du parcours du MAM - Gadagne - © Muriel Chaulet, 2018