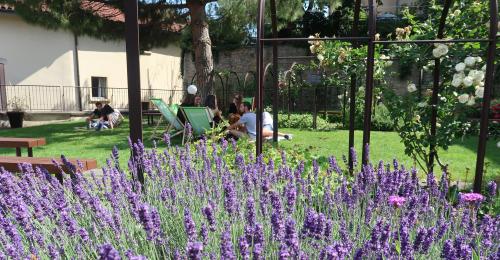 The hanging Gadagne garden are a lovely place for a stroll or a rest. They are located on the 4th floor of the building and can be visited free of charge during opening hours from 10.30 am to 6 pm, Wednesday to Sunday.
Surrounded by lawns, the Gadagne garden feature 4 beds of ornamental, tinctorial and medicinal plants and rosebushes, mostly from Lyon. Indeed, Lyon was one of the major centres of rose production in France at the beginning of the 20th century. The Belle de Gadagne rose was created by the rose gardener Laperrière and officially named in 2015 by cellist Anne Gastinel and renowned chocolate maker Philippe Bernachon, both from Lyon.
Sit down on a deckchair, close your eyes and listen to the lulling whisper of the water flowing through the cool 17th century caves.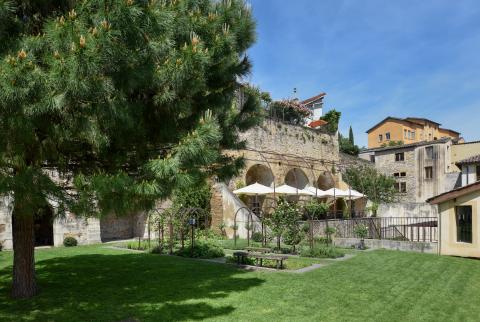 History of the Gadagne garden
Whilst the Gadagne was being renovated (1998-2009), more details about the history of the garden were unearthed thanks to archaeological excavations led by Anne Allimant.
Mentioned in 14th century documents, the garden of the Maison de la Boyssette was an agricultural plot of land that followed the steep, natural slope of the hill. It was divided in two in the 15th century to create an orchard and a vegetable garden.
Early in the 16th century, the Pierrevive family, wealthy merchants from Piedmont, designed the first garden. They created terraces with retaining walls that led up to the Montée Saint-Barthélémy. Designed in a Renaissance spirit, the garden bore witness to the wealth of its owners, featuring a central path from east to west, flanked with flowerbeds. Orange, lemon and pomegranate trees grew in pots, alongside low-lying opium poppies and hollyhocks.
In the 17th century, André Falconet laid out the southern side of the garden. The large retaining arches were transformed into rooms, linked together by narrow passageways. The central room was designed to be a "cave of coolness", featuring a fountain, fed by water from a vaulted conduit. The arch of the fountain was built using alternating black and yellow limestone keystones.
A few years later, at the beginning of the 18th century, the north side was partially planted with vines and a greenhouse was built to the west, housing pots of orange trees. The soil was enriched and the central arch and water pipes were renovated.
At the end of the 19th century, the beds in the south garden were furrowed and the entire water network redesigned. The paths were almost all concreted and covered with earth. The beds were filled with flowers and vegetables and bordered by fruit trees.
In the 20th century, the garden was neglected and its history was lost until the owner, the City of Lyon, started the major Gadagne renovation project in 1998, which included renovation of the gardens.
Jardin de Gadagne - © Sabine Serrad, 2012

Jardin de Gadagne - © Sabine Serrad, 2014

Jardin de Gadagne - © Sabine Serrad, 2012

Jardin de Gadagne - © Sabine Serrad, 2012

Jardin de Gadagne - © Sabine Serrad, 2012

Jardin de Gadagne - © Muriel Chaulet, 2019

Jardin de Gadagne au 20e siècle - © Gadagne

Jardin de Gadagne au 20e siècle - © Gadagne

Jardin de Gadagne au 20e siècle - © Gadagne