Opening hours
Wednesday to Sunday from 10.30 pm am to 6,30 pm
Last admission is at 6 pm
The Gadagne and its museums are closed on 1 January, Easter Sunday, 1 may, 14 July and 25 December.
Free admission to the shop, Gadagne café and gardens
The documentation center is open by appointment on Thursdays from 1.30 to 4.30 pm.
Information : 
By telephone : 04 78 42 03 61
Monday to Friday from 9 am to 12.30 pm and fron 2 to 5 pm. 
Email enquiries may be sent to : gadagne@mairie-lyon.fr
Visiting the museum
Adress : Gadagne, 1 place du petit Collège, 69005 Lyon
04 78 42 03 61
Transport : 
Métro : line D, Vieux Lyon
Bus : C3 and S1 (Gare Saint-Paul bus stop in both directions) ; C14, 19, 31, 40, S1 (Saint-Paul or la Feuillée : cross the Pont de la Feuillée bridge) 
Vélo´V free bike rental service to St Paul, Place Fousseret or Rue de la Baleine
Public car parks : LPA St Georges, Saint Antoine and Célestins
Coach Parking : quai Romain Rolland
In order to make your visit as safe as possible, the following safety measures have been introduced in the Gadagne:
Masks are compulsory for visitors aged over 6
Hand sanitiser is provided
Visitor numbers are limited to comply with social distancing rules
There are no cloakrooms or lockers to leave personal items. The following items are not permitted: helmets, suitcases, rucksacks, backpack baby carriers, scooters and skateboards.
The Museum reception staff are on hand to welcome you, give you information and ensure you enjoy your museum experience.
These rules may be amended in accordance with developments in the Covid-19 situation.
Thank you for your comprehension.
Admission
A single ticket admits visitors to the Lyon History Museum, the Puppetry Museum and temporary exhibitions.
From 21 June to 22 November : €6 / €4
From 23 November to 20 June : €8 / €6
Museum card: €25 for unlimited access for one year to the City of Lyon's six main museums. €7 for 18/25 year-olds.
Free admission: under 18s, jobseekers (proof required), disabled people and the person accompanying them, Lyon City Card holders, ICOM and ICOMOS cardholders. 
Activities : 
Guided visit adult ticket : €3 + museum admission ticket.
Guided visit child ticket : €1
Visitors with reduced mobility 
Visitors with reduced mobility can enter the museum through 14 rue de Gadagne, 40 metres from the main entrance to the building. 
The building, cafe and gardens all have lifts and ramps (only room 23 of the Lyon History Museum is inaccessible).
N.B. the doorway between rooms 20 and 21 is 80 cm wide.
Please ask at reception if you would like to borrow a wheelchair for your visit.
Folding seats are also available from reception for those who may like to rest during their visit.
Group visits
Please book ahead on : 04 37 23 60 45
From Monday to Wednesday, from 3 to 5 pm
Thursdays & Fridays, from 10 am to 12 pm and from 3 to 5 pm
Email enquiries may be sent to : gadagne.publics@mairie-lyon.fr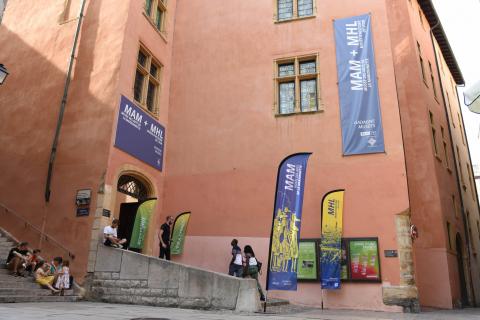 La carte musées
La Carte Musées permet de visiter, pendant un an, en accès illimité, l'ensemble des collections permanentes et expositions temporaires des 6 musées municipaux de la ville.
Cette carte d'entrée est strictement personnelle et sera demandée à chaque entrée dans les musées. Elle est valable un an à partir de la date d'achat. Achat à la billetterie de l'un des musées de la Ville de Lyon. Une photo d'identité vous sera demandée.
Les musées concernés sont :
La carte culture
La Carte Culture donne accès aux expositions permanentes et temporaires des 6 musées municipaux et à l'ensemble du service de prêt de la Bibliothèque municipale de Lyon.
Découvrir les avantages de la saison 20/21
Découvrir la carte culture junior gratuite pour les moins de 18 ans
Elle permet également de bénéficier de tarifs réduits spécifiques aux institutions culturelles suivantes :
Tarif normal de la Carte Musée : 25 € par an
Tarif réduit de la Carte Musée : 7 € par an pour les jeunes 18 à 25 ans inclus
Tarif normal de la Carte Culture : 38 € par an
Tarif réduit de la Carte Culture : 15 € par an pour les jeunes 18 à 25 ans inclus
Gratuité possible pour chacune des deux cartes (sur présentation d'un justificatif à jour) : bénéficiaires du RSA, personnes en situation de chômage, personne non imposable, personne en situation de handicap et son accompagnateur ou accompagnatrice.
Durant la Biennale de Lyon : les détenteurs des cartes Musées et cartes Culture bénéficient du tarif réduit de 9€ au lieu de 16€ sur le billet d'entrée de la Biennale. Les étudiants de la Région bénéficient de la gratuité et les moins de 26 ans du tarif à 9€.