Gadagne Café & Restaurant
Located on the top floor of the Gadagne, the café-restaurant enjoys an envious position in the heart of Lyon, yet well away from the hustle and bustle of the city. On sunny days, the shaded vine-covered terrace boasts magnificent views over the Gadagne gardens.
The catering staff welcome visitors from 10.30 am to 6.15 pm (last orders at 5.30 pm), for lunch or a break during the visit to the two museums. The food is seasonal, inventive and healthy, not forgetting the homemade pastries cooked on site by the chef. At weekends, the restaurant features an all-you-can-eat brunch from 11 am to 3 pm.
Weekdays: 
Daily special: €13
Starter + daily special: €17.50
Daily special + dessert: €16
Starter + main course + dessert: €19.50
Weekends:
All-you-can-eat weekend brunch from 11 am to 3 pm: €28
Pratical information: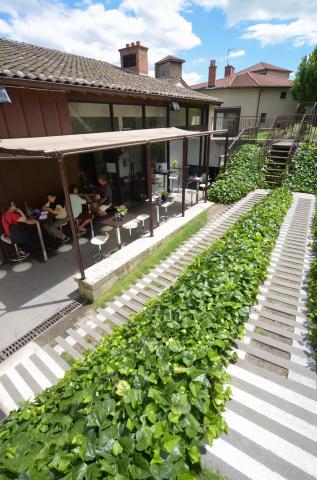 Café de Gadagne - © Gadagne, 2017

Café / Restaurant de Gadagne - © Lucie Coquet, 2018

Café / Jardin de Gadagne - © Gadagne, 2017

Café / Restaurant de Gadagne - © Lucie Coquet, 2018

Café / Restaurant de Gadagne - © Sabine Serrad, 2012

Café / Restaurant de Gadagne - © Lucie Coquet, 2018

Jardin de Gadagne - © Sabine Serrad, 2014

Café / Restaurant de Gadagne - © Lucie Coquet, 2018