Puppetry museum for adult group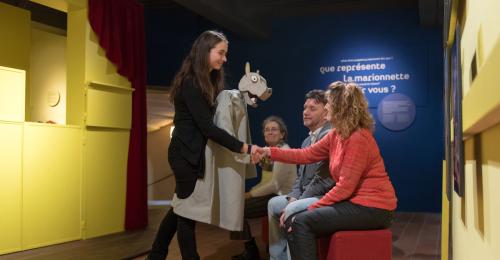 Are you looking for a cultural visit or activity for a group of adults ? Come and see what the Lyon Puppetry Museum has to offer ! 
Welcome to the Lyon Puppetry Museum !
Unravel the mysteries of puppetry! What is a puppet? How is it brought to life? And what role do we play as spectators? The museum will unveil all this… and more.
Ten rooms and an hour-long fun, immersive visit, featuring over 300 puppets, costumes and sets from Europe, Asia, Africa and America, as well as excerpts from shows, interviews and video tutorials and areas set aside for games and experiments designed with puppeteers.
The art of puppetry
An interactive introduction to puppetry.
What are the origins of puppets ? Where does this worldwide artistic practice come from ? What role do puppets play in modern societies ?
What do puppets mean for you ? Do you have memories related to this living art ? Can you name any puppets ? Do you think puppetry is just for children ?
During the visit, your guide will introduce you to different puppets and explain the various animation techniques. You will learn more about puppetry, which is now recognised as real art and touches on a range of art forms. The visit ends with some fun, when you can try your hand at puppetry!
Duration : 1 or 11/2 hours
Available in French, English, Italian, Spanish and Portuguese.
---
What's all this about Guignol ?
A visit to the Puppetry Museum to learn more about that celebrated Lyon puppet, Guignol !
A visit to the museum is an opportunity to learn more about the character known as Guignol, his origins and creator, as well as the Guignol of today, as depicted in a number of Lyon theatres. The puppeteering technique is also discussed and you will have fun bringing the hand puppet to life with the help of your guide.
Learn about this multifaceted character, who can be both a puppet for children and adults. Guignol is always funny, often critical and was even used by the authorities to deliver an official speech during the First World War, but above all, he is the voice of the people.
By the end of the visit, you will know everything about this character, who is a real part of Lyon's heritage. 
Duration : 11/2 hours
Available in French, English, Italian, Spanish and Portuguese.
May the Show Begin ! (2nd district)
Roll up, roll up! Come this way, Ladies and Gentlemen !
Follow your guide through the Presqu'île (Lyon city centre) and listen to stories about the entertainment venues, about theatres, popular traditional figures, shadow theatre, puppets and Lyon's nativity scenes. Travel through history, in the footsteps of puppet theatres, when the Virgin Mary rubbed shoulders with Père Coquard and when Guignol was allowed to be saucy.
Puppetry is not only for children!
Get a real feel for the atmosphere of these places of yesteryear, cafés, cabarets and theatres, where the bourgeois and working classes came to be entertained and hear the latest gossip.
The curtain is raised on the multiple facets of the art of puppetry. Welcome and enjoy your trip back in time !
Pratical information
All activities are accompanied by a guide from the Gadagne
Gadagne collection visits and workshops can be held on :
Tuesdays from 9.15 am to 12.15 pm and from 1.15 to 4.15 pm
Wednesdays to Fridays from 9.15 am to 6 pm
Saturdays from 10.45 am to 6 pm
Outdoor activities can be organised from Monday to Saturday from 9 am to 8 pm.
Self-guided groups 
Groups of over 10 people can take a self-guided visit to the Gadagne museums from Wednesday to Sunday, from 1.30 am to 6 pm, depending on the available time slots.
Self-guided visits must be booked in advance.
Group size 
Groups must not exceed 25 people, including the leader, for both museum visits and outdoor activities. Groups in workshops must not exceed 12 people.
This number may be reduced during the Covert-19 pandemic.
Further information
E-mail : gadagne.publics@mairie-lyon.fr
Telephone : 04 78 42 03 61
Monday to Wednesday from 3 to 5 pm
Thursday & Friday from 10 am to 12 pm and from 3 to 5 pm.