Carte blanche for Michaël Meschke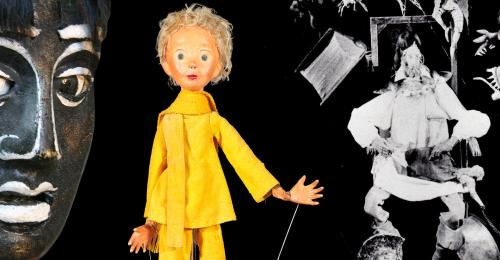 Exhibition from 24 June 2023 to spring 2025
Free entry to the exhibition with a Gadagne Museum pass
The "Carte blanche" room at the heart of the Art of Puppetry Museum (MAM) is dedicated to the artistic creation of one puppeteer, past or present. After Jacques Chesnais and Renaud Herbin, the MAM is now showcasing the work of Michaël Meschke.

 
Discover the work and life of Michaël Meschke, world-renowned figure in the art of puppetry, through three of the biggest pieces of his career: Antigone, Don Quixote and The Little Prince.
Writer, director, and puppet creator, Meschke produced 67 shows over the course of his career between 1958 and 1998. Born in Germany in 1931, Michaël Meschke fled to Sweden with his family to escape Nazism. In Stockholm, he founded his own theatre in 1958, and set up the International Puppet Theatre Museum in 1973. He was also one of the founders of the National School of Puppetry Arts in Charleville-Mézières. His artistic career is defined by his love of classical theatrical repertoire, which he adapted for puppet theatre with a form of innovation and creative freedom that sometimes earned him a place among the ranks of the avant-garde of his era.
In 2022, keen to ensure his work lives on, Meschke donated 44 puppets to the MAM, taken from 6 of his productions including The Little Prince, a piece based on the famous 1943 book by Antoine de Saint-Exupéry, a pilot from Lyon. The MAM has therefore decided to dedicate its next Carte blanche exhibition to Meschke, in order to give visitors a glimpse of this exceptional donation. This exhibition is a tribute to the artist's remarkable career, his commitment to children's theatre, and his tireless efforts to train young puppeteers in Europe and across the world.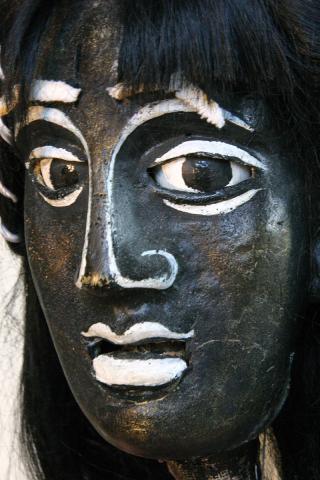 "I wanted to bring some poetry and levity into the world"
Michaël Meschke
3 major productions in the spotlight
With these three pieces, Michaël Meschke follows in the footsteps of three literary masterpieces written in three different eras: Ancient Greece, the 16th century, and the 20th century. They address themes which this artist explores throughout his work: political activism, the creative power of the imagination, and calling out oppression.
The Little Prince – 1973
Between 1973 and 1991, The Little Prince was performed in Stockholm, Reykjavik, Bombay, New Delhi, Hong-Kong, Jakarta, Tokyo, and Bangkok, in Swedish and in French. It was also programmed by the Théâtre National de Chaillot to be performed in the Sainte-Chapelle of the Château de Vincennes. Michaël Meschke invented a puppet controlled by four puppeteers especially for this performance, with sticks which can be hidden from the audience's view, adding to the magic of a text already steeped in the supernatural.
Antigone – 1977
In Antigone, the appearance of the characters is inspired by the decoration on Ancient Greek vases (black figures on a white background). For this piece, Michaël Meschke used a hybrid of Ancient Greek theatre and bunraku (traditional Japanese puppet theatre), bringing together two civilisations and two eras to create a single unique stage production.
Don Quixotte – 1988
The most famous character in Spanish literature is obsessed with novels featuring knights in shining armour, glory, and heroic combat. Now old and in ill health, is he falling into madness or has he decided to embody one of his heroes, bringing his fantasies into the real world? This is the question that led Michaël Meschke to adapt Cervantes' famous novel in order to make it accessible and relevant to a young audience. Don Quixote employs the Japanese bunraku technique already used for Antigone, as well as other forms of puppet theatre including a technique called kuruma ningyo. This piece is an exploration of new territory and a merging of eras and cultures that the artist experimented with in the latter part of his career.
Le petit prince - Photo Matias Antoniasi

Det osynliga barnet - Programme, 1993

Benjamins cirkus - Programme, 1987

Michaël Meschke et sa marionnette - Photo Karl Heinz Hernried

Créon - Photo Matias Antoniasi

Antigone - Photo Matias Antoniasi

Affiche du spectacle Don Quichotte, 1988
The MAM donation
Since the end of his career in 1998, Michaël Meschke had been searching for a place with the means to preserve and showcase some of his personal collection of puppets. In 2022, after visiting the MAM, Michaël Meschke donated a collection of puppets to the museum taken from 6 pieces covering his entire artistic career (44 puppets in total):
La farce de Maître Patelin (1949) a mediaeval comedy whose 1st edition was printed in Lyon in 1485 - 3 puppets
Le marrrchand d'habits (1960) by Théophile Gautier - 15 puppets
Le Prince de Hombourg (1962) by Heinrich von Kleist - 15 puppets and a set of models
Le Petit Prince (1973) by Antoine de Saint-Exupéry - 1 puppet
Antigone (1977) de Sophocle - 8 puppets and a set of clay sketch models
Don Quichotte (1988) de Miguel de Cervantès - puppets