History of the puppetry museum
From the International Puppet Museum to the Puppetry Museum
In 1946, at the instigation of Georges-Henri Rivière, director of the National Museum of Popular Arts and Traditions in Paris, the Gadagne Museum in Lyon was chosen to house a specialised puppet museum. 
The Gadagne museum collection, and more particularly that surrounding the iconic Guignol puppet, was then enhanced by the collection from the Paris Museum.
In 1950, the Gadagne Museum inaugurated the exhibition rooms of the International Puppet Museum. 
In 1956, this section was further enriched by the exceptional collection of a lawyer named Léopold Dor. The Gadagne Museum was then the only museum in France dedicated to this living art, with an outstanding collection of over 2,000 puppets, costumes, sets, manuscripts, posters and castelets from all over the world.
From 1998 to 2009, the museum was completely redesigned as part of a major renovation project. Until the museum closed to the public in 2003, the puppet collection was displayed as part of the Lyon History Museum. 
Reopening in 2009, as the World Puppet Museum, the exhibition totalled 9 rooms and provided a fascinating overview of the figures and techniques of traditional puppetry throughout the world. 
April 2017 to November 2018 saw a total renovation of the permanent exhibition, with new displays and a new name, the Puppetry Museum. Puppetry is depicted as a living art, with expressive and aesthetic qualities that cross both countries and centuries.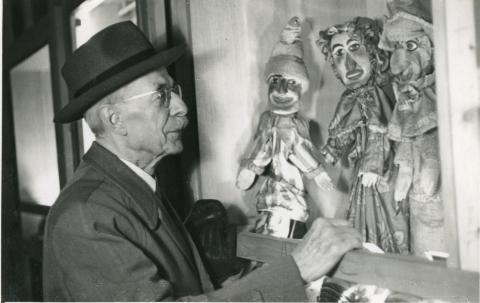 Salle Marionnettes à Gadagne au 20e siècle - © Gadagne

Les salles marionnettes de Gadagne au 20e siècle - © Gadagne

Les salles marionnettes de Gadagne au 20e siècle - © Gadagne

Les salles marionnettes de Gadagne au 20e siècle - © Gadagne

Les salles marionnettes de Gadagne au 20e siècle - © Gadagne

Les salles marionnettes de Gadagne en 1976 - © Gadagne

Les salles marionnettes de Gadagne en 1976 - © Gadagne

Salle marionnettes de Gadagne en 1978 - © Gadagne

Salle marionnettes de Gadagne en 1978 - © Gadagne

Salle marionnettes de Gadagne en 1996 - © Gadagne